Will Scarlett Johansson freeze off her belly fat? Get in line!
Celebrity
Several unflattering paparazzi photos of Scarlett Johansson running with Sean Penn and a very noticeable belly bulge sparked rumors this week of a possible pregnancy and/or a weight problem.
Since a pregnancy has been firmly denied by her rep, who also claims that Scarlett "is in the best shape of her life," the Dish Rag did some research to find a cure for ScarJo's plight.
First off, you are not alone, Scarlett. I think I speak for millions of women who have similar tummy trouble; the inability to lose annoying belly fat. I call mine my Famine Pouch since I would surely be able to survive a few weeks in the wilderness without food. I could live off the annoying excess blubber stored just below my belly button.
It's always been there. The paunch. Ever since I was a teenager. And it's there whether I'm at my low weight of 113 or peaking at my high weight of 119. I can't run it off, crunch it away or do enough planks to budge it an inch. And frankly, its just not quite enough to warrant getting it sucked out via an expensive and invasive procedure like liposuction. I'm just not that much of a perfectionist. Close, but not quite.
But I just heard about a possible solution, a new technique from Zeltiq called CoolSculpting that has recently been FDA approved to reduce stubborn belly and hip fat. And from what I could glean, there's absolutely no down time, no pain, no incisions, no anesthesia and/or needles. What's not to like?
I must warn that there is a slight risk of boredom. Bring your cell phone or iPad if you have it done. During my procedure this week, I sat on a table at Dr. Joshua Weider's Westwood dermatology offices while he applied a cool sheet of silicone gel on my belly.
Then he attached the sucking end of the machine (It actually looks like a futuristic vacuum cleaner floor attachment) to my belly and turned it on. It quickly sucked up my belly pouch and left all the internal organs in place. (Thank God).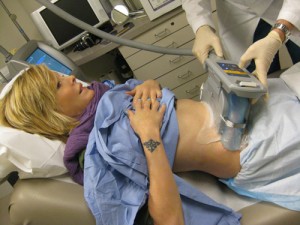 Then my belly began to freeze. I actually wore a scarf because I thought i might be cold. I wasn't. I was also concerned that this part might hurt because if you've ever dunked a bashed finger or a stubbed toe in ice water, it does hurt. But this didn't.
During the 60 minute procedure, 25 % of my fat cells are destroyed by the freezing. Over the next 2-4 months, Dr. Weider tells me that my frozen fat will be expelled by my body's normal metabolic processes. Even while I sleep. Sweet!
The machine made a low humming sound as I read magazines and eventually dozed off. At exactly an hour, Dr. Weider came back in and unclamped me from the succubus contraption. My angry bright red belly, stiff, creased and flattened out like a thick crepe, flopped out. Very attractive. Dr. Weider managed to massage it back to looking semi-normal.

My stomach has been numb to the touch ever since. Like he warned, it also itches a bit. But the procedure didn't leave a single bruise. And I think I can already see a reduction in the size of my famine pouch. Imagination? Wishful thinking? Perhaps. OK, probably. It's going to take longer than a few days to see the change.

The cost? It's around $1200 for the large belly attachment, the one I had done. Just $800 for the smaller attachment. It costs around $850 to do the fat on your hips. The fat that people call "love handles" on guys and "muffin tops" on women.

Anyway, I don't know if this might be something that  Scarlett would consider. But it couldn't hurt. And it just might put a stop all those speculative tabloid headlines about her being pregnant with Sean Penn's love child.

Here's a short video of the procedure. I cut out the boring part where I flip through Vogue and Harper's Bazaar for 60 minutes.

Photos/video: Elizabeth Snead

<!/-- POST CONTENT BODY SIDEBARS -->